Clear Lake Prepares For Battle - CLEAR THINKING Issue 38
July 13, 2021
The heart of the Conservancy's mission leads to water quality and land projects.
We want to update everyone on three important projects, beginning with the Aquatic Vegetation Management Project covered below. Following that, you'll learn about the Cyrus Brouse Clean Stream Project at Settlers Wetland Nature Preserve and the completion of the Brennan Woods Trail. Every project aims to keep the water in and around Clear Lake clean and healthy and to get all of us into our beautiful natural environment.
Last summer, our office was alerted to an increased presence of plant life in Clear Lake. We heard from many that the "weeds were out of control!" After a plane ride with Bill Geiger and studying drone shots from Connor Oiler, the Conservancy moved to action!
Members of our Water Quality Committee collected a sample and shipped it to Dr. Robin Scribailo at Purdue University. The presence of the invasive and non-native Eurasian watermilfoil (EW) was confirmed.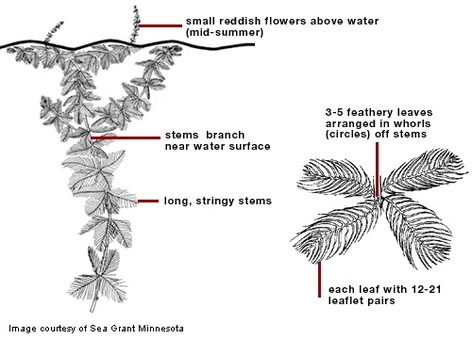 Following the process in place from the Indiana Department of Natural Resources (IDNR), earlier this spring we engaged a contractor to complete an Aquatic Vegetation Management Plan (AVMP). This necessary step prior to permitted treatment was kicked off in May and completed earlier this month. The findings will help us understand the presence and location of plant life and help guide our next steps.
Based on the results, and pending a permit from the IDNR and project funding, treatment will begin in 2022, as the window for treatment this year has passed.
In the meantime, here are a few tips on how you can best manage the EW this summer while discouraging continued spread. Because EW spreads by fragmentation, avoid fragmenting the plant! If you must rake and remove plants, be sure to remove the small floating pieces. If your seawall has large mats of floating plant debris, consider removing that plant debris.
Disposal is key! Plant debris can be used as compost in your landscaping or garden. If that is not an option for you, take the material to the drop-off location off of SR 120, near the Fremont Water Treatment Facility. But definitely do not "dump" any plant material in the deep pockets of Clear Lake.
A healthy lake will always have "weeds." Our native plants do not typically form thick mats like EW and therefore create fewer problems for recreation, and in fact, native aquatic vegetation is essential to a healthy fish population.
Many thanks to the Clear Lake Association and an anonymous donor for supporting the survey work. As we all enjoy the summer season, remind your friends and neighbors that the Conservancy is aware of the increased plant growth, and we are working through the process to improve it!
We look forward to seeing you outside and are incredibly grateful for the generous support we receive from you and from the Clear Lake Township community.
Settling For The Best
In an effort organized and led by volunteer members of the Water Quality Committee, we've collected data for over a decade on the county-regulated ditches flowing into Clear Lake and on the lake itself. Results indicate a decrease in water clarity shown in the Clear Lake Secchi depth readings and an increase in nutrient levels...
Read More »
A Wonderous Woodland Walk
We are ecstatic to share that our loop trail in Brennan Woods is complete! In late June, 21 Conservancy friends and members of Forever Improving Steuben County Together (FIST) came together to complete the trail building project...
Read More »
Love The Loop
Join us for a grand opening and celebrate the trail building project at Brennan Woods!
Learn More »