Watershed Diagnostic Study Project Updates
July 27, 2022
The perpetual challenge for Clear Lake and most, if not all, glacial lakes in Indiana is to have an accurate understanding of nutrient and sediment loads entering and leaving the lake. This understanding is essential to improve or maintain the water quality.
Working with the team from our consultants Ecosystems Connections Institute, a robust experimental design has been created to establish sound ecological benchmarks that will be useful for understanding the nutrient and sediment loads entering and leaving the Clear Lake watershed.
By using an approach rooted in science, we can better identify projects that can improve our water quality and create productive partnerships to help us do that.
Pictured above is muddy water entering Clear Lake from the Cyrus Brouse Ditch following a recent storm event. A key goal of the Watershed Diagnostic Study is to identify and prioritize watershed improvement
projects that will improve the water flowing over, under and through the landscape into our lakes.
But first, we need the data. This is a long term project. Our plan to get reliable data is outlined below for the the next few years.
Year 1 (2020 & 2021)
Water samples are currently being taken manually by our consulting team (grab samples). Grab samples were collected monthly starting in October of
2020 at the Cyrus Brouse, Alvin Patterson, Peter Smith, and Harry Teeters ditch inflows, at the Round Lake exit, and in Clear Lake.
Results so far indicate:
higher than desired nutrient levels and degraded water quality overall
increased levels of sediments coming from Harry Teeters and Cyrus Brouse Ditch sub watersheds leading us to target these locations for partial gage stations (Year 2)
Grab samples are not to effectively calculate nutrient loads, leading us to plan deployment of full automated gage stations (Year 3) to best identify future projects.
Year 2 (2022)
Three partial gage stations (pictured below on Harry Teeters Ditch) have been installed at the Round Lake outflow, Harry Teeters inflow, and Cyrus Brouse inflow.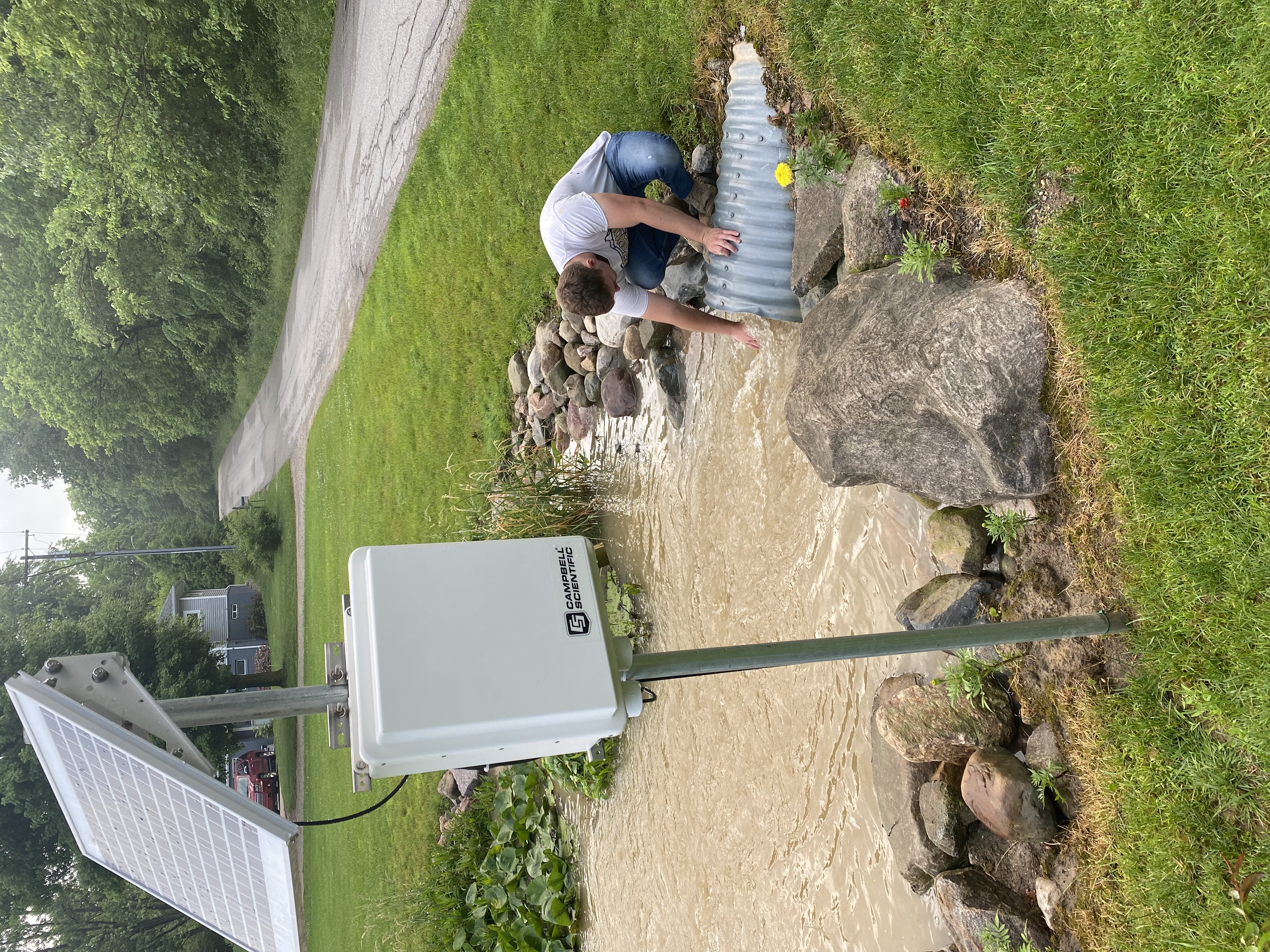 Parameters being measured include: rainfall, water temperature, air temperature, and volume of water flow.
Grab samples are also being collected manually once each day during April-June and weekly January-March and July-December by our consultant team.
Lake sampling is being done at the two deepest portions of the lake once each month. A variety of parameters are being measured, including sediment and nutrients.
Results will be shared as they become available.
Year 3, 4, 5 (2023 - 2025)
(PENDING FUNDING) Full Water Quality Gage Stations will be installed at the Harry Teeters Ditch inflow and at the Cyrus Brouse Ditch Inflow. Water samples, like pictured below, will be automatically collected for analysis. A partial gage station will be maintained at the Round Lake exit and lake sampling will continue.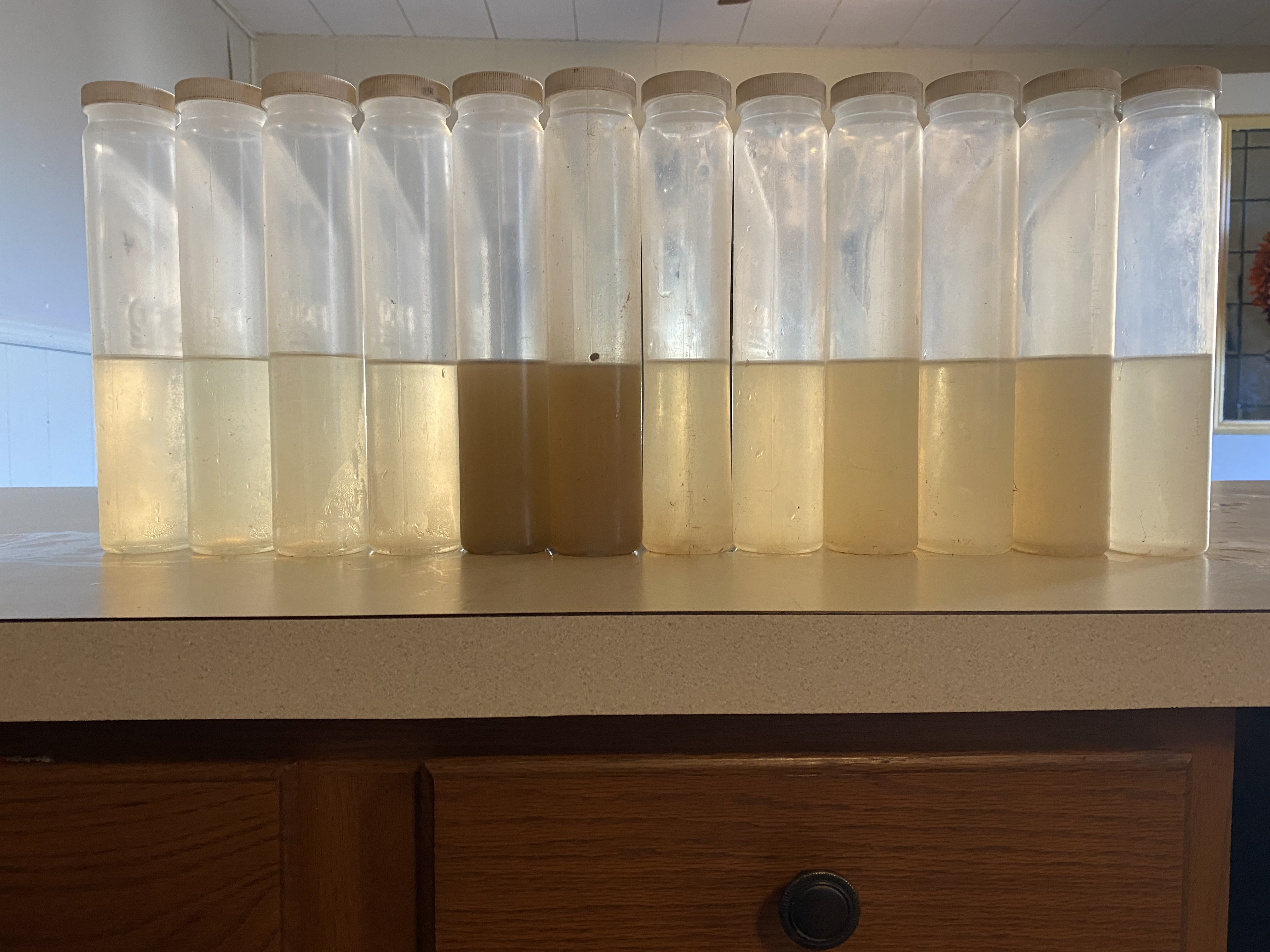 The full gage stations will measure key parameters including: Phosphorus, Nitrogen, and sediment loads for the water samples, and rainfall, water temperature, air temperature, and volume of water flow on the ditch inflow.
Samplers will be programmed to automatically collect six water samples daily during April - June. Weekly water grab samples will be collected during January - March and July - December.
Lake Sampling described above will continue.
Building this robust collection of data over multiple years will enable us to identify and plan the best and most effective projects to improve the water quality for the Clear Lake Watershed. Improving water quality is a key part of our mission and benefits all of us who share this special place.
Contact our office to learn more or support this project!