Walking in Beauty
October 4, 2023
Sharing stewardship stories
I found myself among like-minded people last week.
For three days, land stewards from across the state shared their time and talents through the Indiana Land Protection Alliance's annual Stewardship Gathering, held along Big Pine Creek in rural Warren County. After two nights of sleeping in a tent, long walks on trails and in the woods, pulling pounds of invasive stiltgrass and learning from state experts, you may have expected me to be exhausted. But I felt great. I felt healthy and restored – physically, mentally and emotionally.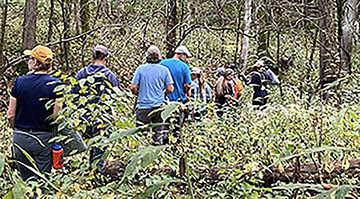 Land stewards from across the state participating in the Indiana Land Protection Alliance's Stewardship Gathering last week walk through NICHES Land Trust's Fall Creek Gorge Nature Preserve in search of invasive stiltgrass. Non-native stiltgrass is found in all southern Indiana counties and is moving northward, according to state ecologists.
What an honor to be the Clear Lake Township Land Conservancy land steward. After three decades in journalism, it is such a gift to find myself here at Clear Lake, caring for the land and resources the Conservancy and its members value.
And what a gift to meet people from across the state who think and talk the way I do. People who walk moonlit trails, coddle injured bumblebees and delight at the call of owls in the foggy hour before dawn. Each morning we compared the sounds we heard; was it a bobcat cry or a squirrel falling prey to a barred owl? Each evening we shared stories. We talked about the land we work on, the challenges we face, and the creatures and landscapes we cherish.
This year's event was hosted by NICHES Land Trust. NICHES protects land in 11 west-central Indiana counties. We stayed in a remote location along Big Pine Creek, which starts in White County and flows south through Benton and Warren counties before meeting the Wabash River.
Our host was NICHES' Bob Easter, who led us through the river Tuesday afternoon to the Warren Piece settlement, where stone-fired pizzas were served as the sun sank to the west. On Wednesday evening, we returned to Warren Piece Conservation Easement. We sat around a fire and listened to Indiana Department of Natural Resources Regional Ecologist Danielle Williams' presentation on the evolution of conservation in Indiana.
It followed a hike led by Bob and his wife through Crow's Grove. The NICHES property features a gargantuan, ancient pine that escaped the clear cutting most of Indiana experienced in the 1800s. We eased our way down dirt trails and rocky ledges to a sheltered place where a long-ago river carved formations and caves in sandstone as glaciers melted. Virginia creeper, with its crimson fall color, looped down toward the damp rock, creating a stunning visual. Bars of earth covered in native grasses and moss revealed deer tracks and mushrooms.
Along with Clear Lake Township Land Conservancy, people attended from ACRES Land Trust, Central Indiana Land Trust, LC Nature Park, Little River Wetlands Project, Red-tail Land Conservancy, Shirley Heinze Land Trust, State of Indiana Cooperative Invasives Management, Wesselman Woods, Blue Heron Ministries and Orbis Environmental Consulting.
It was just three days, but the feeling of camaraderie will carry me through the coming year.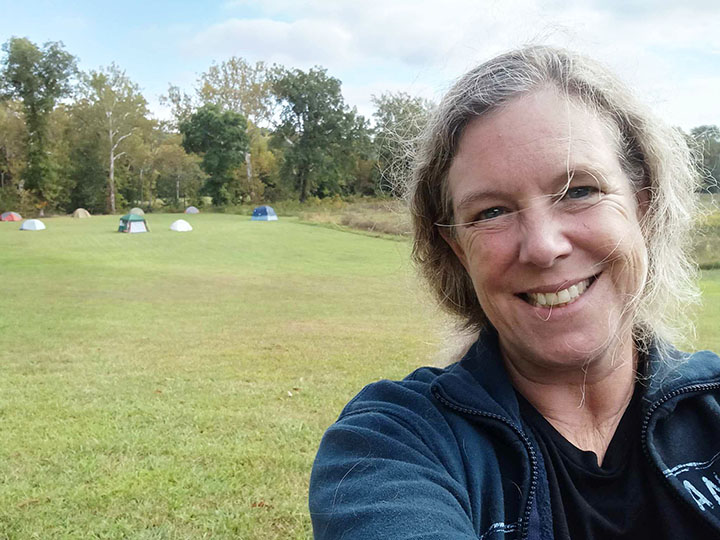 Clear Lake Township Land Conservancy Land Steward Amy Oberlin takes a selfie with Stewardship Gathering participants' tents in the background. Beyond the tents is Big Pine Creek.