Walking in Beauty
September 14, 2023
Wildflower bounty protected by careful management
I ran into a team from Blue Heron Ministries at Clear Lake Nature Preserve last Wednesday morning.
A persistent drizzle kept them from their task of treating invasive lespedeza – once planted as a forage crop for livestock – so they went on a short wildflower walk until the raindrops stopped.
The Blue Heron crew included two interns, two employees and restoration biologist John Brittenham. Blue Heron Ministries contracts with Clear Lake Township Land Conservancy for land management.
Lespedeza grows prolifically along the trail leading into Brennan Woods and on a rise along the restored prairie. Removing it will allow native plants to grow – and there are plenty of showy species making themselves known this fall at Clear Lake Nature Preserve.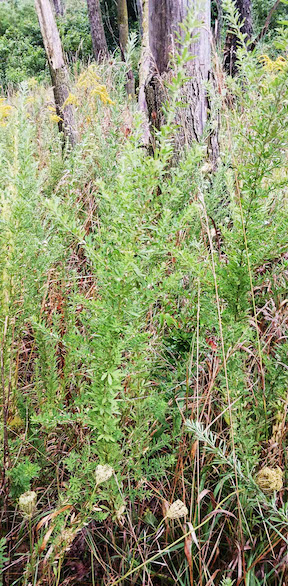 Invasive lespedeza at Brennan Woods
A well-known fall bloom is goldenrod. In a guide to Indiana's common goldenrod species, Paul E. Rothrock of Taylor University lists 15 varieties. None are considered invasive, though Brittenham noted that the Canada goldenrod tends to take over when left to its own devices. Rothrock notes several species that look similar to Canada goldenrod.
"Goldenrod has gotten a bad rap for aggravating hay fever allergies, but, in fact, their pollen is heavy and sticky and not likely to be airborne. Ragweed also happens to be in bloom at about the same time and is far more likely to be the culprit," wrote Rosie Lerner in September 2003 for Purdue Extension.
The sea of yellow at Clear Lake Nature Preserve includes more than goldenrod. There is the spindly coreopsis with its bright yellow flowers. Sunflowers growing along the trail appear similar to the coreopsis but can be differentiated by the small seeds in the flower's center and also by the way the leaves grow on the stem.
The golden Alexander was no longer golden, its brown stem holding aloft seeds to be blown by the wind and planted by Mother Nature. Blue Heron harvests wildflower seeds for use in native plantings, and welcomes volunteers to assist. A prairie seed adventure is planned on Sept. 23. Learn more at blueheronministries.org.
On the purplish scale, we saw asters, a sprig of germander and Ohio spiderwort.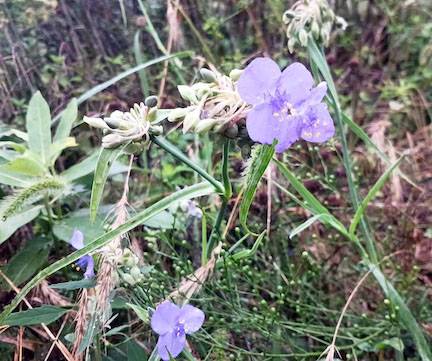 Ohio spiderwort
The fall rainbow in the Clear Lake area also includes pink Joe-Pye weed, orange jewelweed and powdery blue chickory.
With temperatures still warm and the summer hubbub subsiding, it is a great time to get out and enjoy nature's splendor.
For Blue Heron, managing natural diversity and battling invasive species is a year-round project. Wednesday, the group, immersed in a botanical perusal of the prairie at Clear Lake Nature Preserve, realized the rain had stopped and returned to their purpose – caring for creation.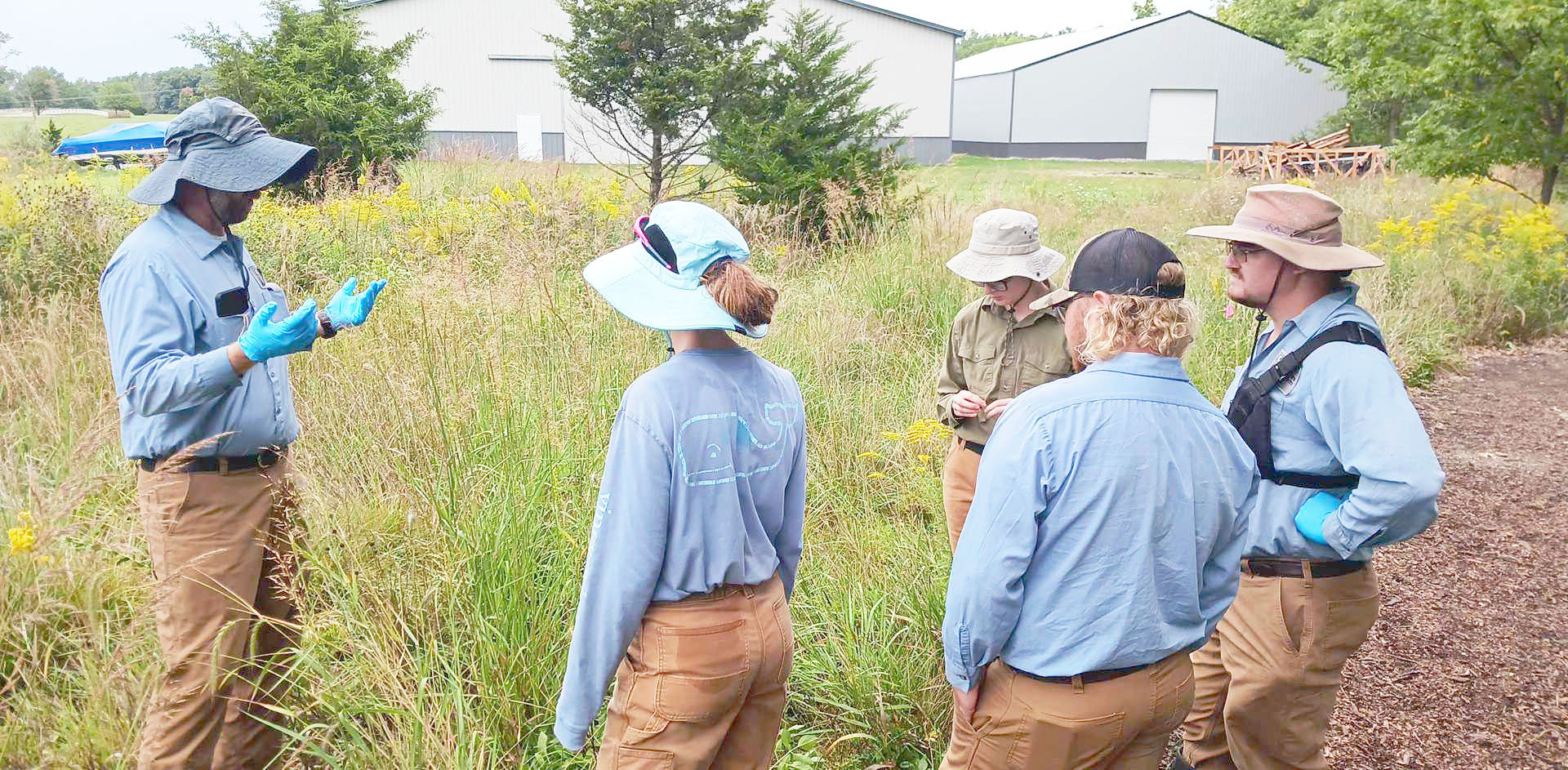 Blue Heron Ministries' John Brittenham explains some of the species found in the prairie at Clear Lake Nature Preserve, which was planted by Blue Heron as part of a restoration effort by the Clear Lake Township Land Conservancy.