Continuing the Legacy
May 17, 2021
Top Photo - Zach Dean, Left, with Mary Jo Fitzenrider collecting a water sample from Don Luepke at the Harry Teeters.
"Water quality is an important measure and we don't have any other measures. Thank goodness someone came up with the program," Mary Jo Fitzenrider said when referring to the Hoosier Riverwatch program. And those measures Mary Jo praises? Those are the parameters that volunteers have been testing on the ditches flowing into Clear Lake for decades.
These water testing efforts started at the beginning of the Conservancy's creation, 30 years ago. Mary Jo learned of the volunteer testing opportunity from Kathy Latz, who with Ron Oldsen, Angie (Derheimer) O'Neill, Dan Hoagland, and Ken Goeckel, tested for several years and were ready for others to support the data collection. To Mary Jo, "It's important to keep the testing going. It's firsthand information. There is no other way to get it."
The Hoosier Riverwatch program is a citizen-science based volunteer data collection effort conducted across the state. In addition to volunteers from Clear Lake, several other area lakes have volunteers who participate. Mary Jo believes that this makes us part of something much bigger than Clear Lake. "We are part of a bigger program," she said.
When talking about why Mary Jo has been involved in the testing for over 12 years, she explained that this is an opportunity to see the streams flowing into Clear Lake. She further explained, "It's fun to get out there. You feel good about it. You feel a sense of pride because it's an important measure." The Conservancy undertakes other important projects and programs, but the quality of Clear Lake is why many of us live on this lake, she opined. "We need to keep a measure on it; otherwise, we do not know how the lake is changing."
"WHAT GETS MEASURED, GETS IMPROVED"
– ROBIN S. SHARMAR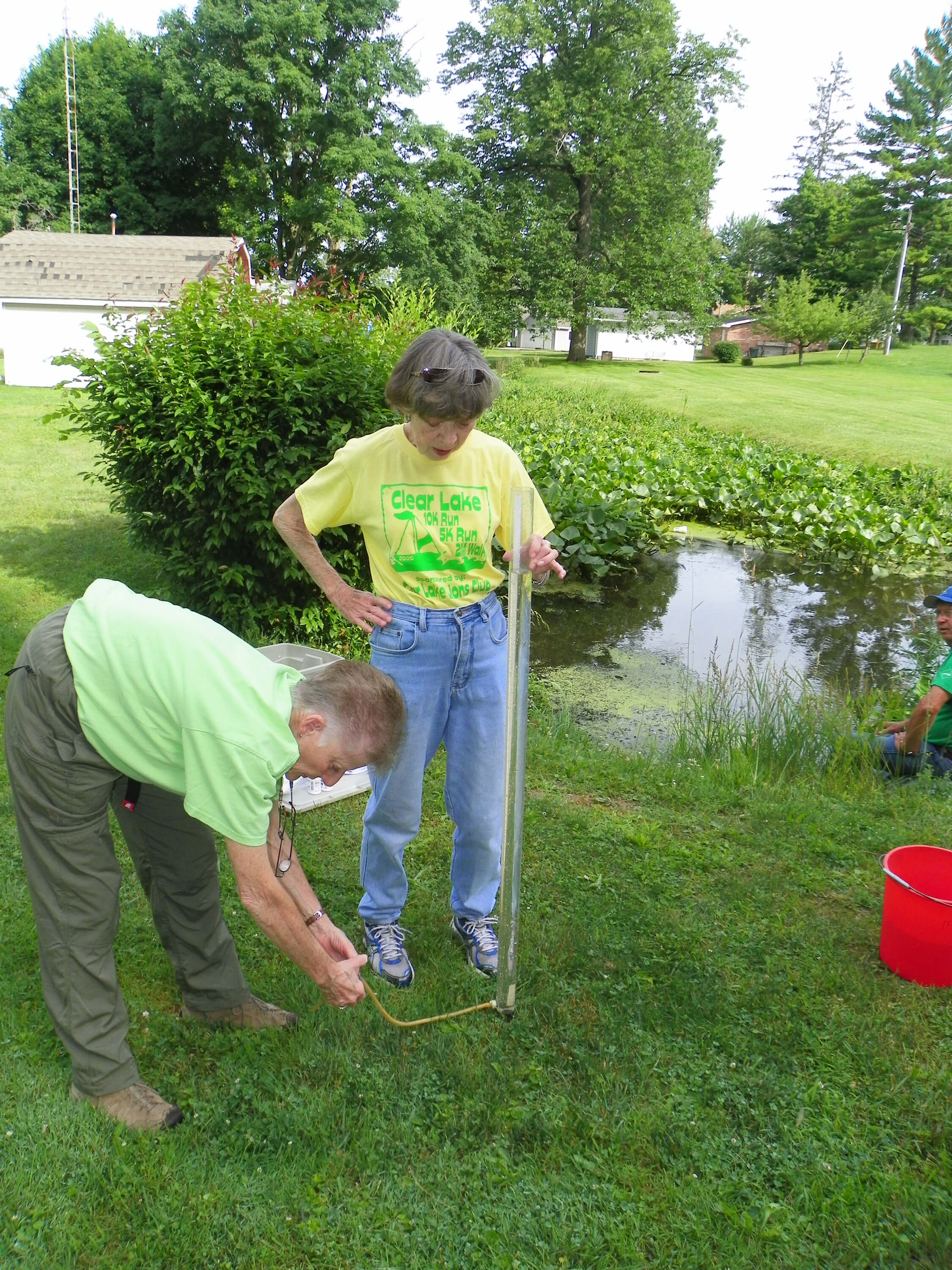 Like the earliest cohort of volunteers, Mary Jo knows that there comes a time when volunteers can no longer get into the streams. It's important to her to see this program continue and she urges the community to get involved. "The camaraderie is great! What you are doing is a little unique and you have fun. People admire the testing. It's a good feeling!" She laughed and commented that when she has been asked if she is one of the "testers," most folks comment, "good for you!"
This is not just Mary Jo's story. Many have contributed to the data set that we have available, and we need you to help continue the legacy of testing! Our appreciation goes out to the early testers and the current volunteers. Reach out to learn how you can get involved.
Photo Above - Peg Zeis, Left, measuring water clarity with Mary Jo Fitzenrider.